Lorne Mower April 2018
Welcome to the final MOWER for the 2017/18 season.  A lot has happened in our Club since our last communication to members so I hope we manage to cover everything.
Wasn't it great to see our Club selected to be the 200th Surf Club Dulux painted.  The exposure which followed on Channel 7 Sunrise and the social media campaign was fantastic.  A huge thank you to Dulux and Club Members involved in this fantastic event for our iconic Surf Club.
Easter Sunday proved to be a fantastic day down at the Club. Members enjoyed competing in our annual Club Champs and then relaxed upstairs with a shortened version of the Presentation Night.  There were two particular highlights for me; Sam Aschhoff being awarded the Sharky Award for his countless hours of input to the Club in many areas over the years and of course a new surfboat being named 'Kev van Deuren' after the great man himself. Congratulations Sam and Kev.
Our Competitors have been sensational in recent months, so keep reading to the Competition Report for the latest news. They have been doing the Club proud.
Another recent announcement was that the State Junior Championships will be held next year in Lorne on the 23rd and 24th of February.  It is always a highlight to compete at our own beach, so this is great news.
A big thank you must be given to the Executive Team for their contribution during the season to date. Keep up the good work.
Enjoy the winter break everyone, but keep an eye out for information regarding the AGM.
Thanks,
Peter Murrihy
President
Contact: president@lornesurfclub.com.au
SAVE THE DATE
71ST ANNUAL GENERAL MEETING AND DINNER
Members of Lorne Surf Lifesaving Club are hereby advised that the 71st Annual General Meeting of the Lorne Surf Life Saving Club will be held as follows.
Date:               Saturday 21st July, 2018
Place:              Kooyong Tennis Club, 489 Glenferrie Road, Kooyong Victoria
Time:              4.30pm, followed by dinner at 6pm.
Book:              A trybooking link will be forwarded separately to members.
Members are advised that if they wish to submit items for 'other business' these must be received at least 40 days prior to the Annual General Meeting.
Members are also reminded that they need to be financial to vote at the AGM.
If you have anything you would like raised, please send these to secretary@lornesurfclub.com.au  The notice of the meeting and meeting papers will be distributed in due course.
Carol Fox 
Secretary
Email: secretary@lornesurfclub.com.au
Club Captain's Message 
The season is now finished and what a season it's been!
I am so proud of our patrolling groups and we have had many heart warming stories. The highlights for myself include congratulating our SRC superstar Harvey Marrier on completing 100 hours in his first patrolling season, watching Tom Cross back as a lifesaver after kicking cancer's butt, seeing Nick Murnane obtain his 1,000th patrolling hour for our club or listening to Amy Kenny and Hannah Keane talk on 3AW about their heroic after hours rescue – I am a very proud Club Captain.
I want to say a huge thankyou to all the Patrol Captain's and Vice-Captain's for making our patrols a happy and enjoyable environment. I also want to congratulate the Patrol people of the Year and the award recipients from our presentation night.
Good luck to our IRB competition team who will be representing Lorne over the winter and to everyone else, I hope you enjoy a much-deserved break!
Brydie Murrihy
Club Captain
Presentation Night
Award Recipients 
Sharky Award: Sam Aschhoff
Presidents' awards
John Takac
Pete Atkinson
Paula Matthews
Paul McMaster
Club Captains' awards
Jack Slykhuis
Jessica Sincock
Nicholas Tsekouras
Nick Murnane
Competition
Best Overall Competitor: Geoff Matthews
Best Senior Competitor: Lorne Edge (Megan Grierson, Michelle Yann, Bec Daniher and Chantel Guziak)
Best Junior Competitor: Michael Garbelotto
Best Master Competitor: Lisa Wadling
Tom Cross "Contribution to Surf Boat Area": Geoff Matthews
Nipper awards
Outstanding Performance Award: Jerome Palmer
High Performance Award: Thomas McLennan, Harry Hay, Jasper Atkinson and Ryder Vearing
Easter time at Lorne!    
Easter Sunday was another great day at the Lorne SLSC. Open to all comers, we ran the annual 'Club Championships' with amazing participation from all areas of the club. We had nippers, their parents, summer competitors, winter competitors, junior competitors, life members and committee members.  Everyone had a great time.
Once the sand settled and the bets were paid out, we had another great club moment with the unveiling of a new surfboat. One of the great honors that can be bestowed upon a member is to have a surfboat named after them. It is an appreciation for the dedication, commitment and selflessness shown in support of our competition teams and our club. This year, our new surfboat was named after Life Member, former President and club stalwart Kev Van Deuren.
After Kev gave out some cuddles, a couple of drinks were had, and it was time for the 'Last Supper'. With around 135 for dinner, and plenty more for drinks, everyone ate and chatted about the season that was, and the seasons to come. We enjoyed a very generous and delicious buffet dinner kindly provided by the Grand Pacific Hotel. We were incredibly incredibly grateful for their assistance.
Our traditional Easter dinner was accompanied by club presentations, where we celebrate our members' achievements on and off the beach, on patrol, and in competition. The one resounding reflection from the awards night is how incredibly fortunate we are as a club, to have so many wonderful people who choose to do so much to help.
All in all, this was one of my favorite days of the season, and I would like to thank the following people for their help throughout the day and making it happen; Felicity Koch, Tina Westacott, David Hay, Courtney Hay, Paul McMaster, Kristen McMaster, John Nelson, Jenny Aschhoff, Samuel Aschhoff, Brydie Murrihy, Peter Murrihy, Nick Hadaway, Geoff Matthews, Jess Sincock, Rom Columb, Amanda (the GPH Chef), and the Grand Pacific Hotel.
See you all next season!
Heath Armstrong
Vice President – Club Events
Lorne victorious at State Titles!
It was raining Gold in March at the State Titles at Apollo Bay for the Open Divisions and Warrnambool for the Nippers with Lorne taking out wins across numerous disciplines.
Surf Boats
Open Men – Lorne 31s
Open Women – Lorne Edge
Reserve Men – Lorne WASAVICS
Reserve Women – French Lorne Jeray
Lorne Atics and Unilornes also pulled off a trifecta with Jeray in Reserve Women. Lorne were also  State Representatives in both Open and Reserve divisions this year, with Geoff Matthews named Captain of the Victorian Team.
Our competitors at 'the other end of the beach' had unprecedented results also over the weekend – every Lorne competitor received a medal which is a credit to everyone who has contributed to the season.
U15 
Individual sprint – Seb Hadaway,
Beach sprint relay – Will Garbelotto, Nathan Vabec, Kai Enticott, and Seb Hadaway
Ironman – Hamish Bowden
Aqua Cameron – Nathan Vabec, Hamish Bowden, Seb Hadaway and Will Garbelotto
Board relay – Nathan Vabec, Seb Hadaway, Hamish Bowden
Swim Team – Seb Hadaway, Hamish Bowden, Kai Enticott and Nathan Vabec
U17
Swim – Michael Garbelotto, Ironman – Bill Bowden
Swim Team – Bill Bowden, Michael Garbelotto, Thomas Hay, Luke Matthews
Taplin relay – Bill Bowden, Michael Garbelotto, Thomas Hay
Tube Race – Michael Garbelotto
Open
Belt Race – Tristan Read, James Bowden, Brent Enticott, Vincent Sheehan and David Hay, Swim Team – Tristan Read, Billy Bowden, Thomas Hay and Michael Garbeloto
We were well represented by our talented Nippers at the State Junior Championships held in Warrnambool in March. Teams participated in the U/10 Boys, U/11 Boys U/13 and Girls Boys U/14 Boys. A big effort from the parent and friend support crew that headed to Warrnambool and thanks to those that volunteered on the course. Lorne finished 14th overall. Special thanks to Jenn Brown and David Hay who helped coordinate the team.
U/10 Team Boys
Teams
Aqua Cam – 4th
Beach Run – 6th
Wade – 2nd MacLennan Palmer Vearing Ludlow
Surf Team -1st MacLennan, McKerron, Vearing Newton
Individual
Beach Flags – Jerome Palmer 1st
Beach Sprint – Jerome Palmer 3rd
Beach Run – 6th Jerome Palmer
Wade – 4th T McLennan 6th R Vearing
U/11 Boys
Individual
Ironman and Surf Race – 6th Darcy Hepburn
U/13 Boys
Team
Aqua Cam – 2nd  Aitkinson Hay Harper MacLennan Cash
Surf Board Relay – 4th
Surf Board Rescue – 3rd Aitkinson Hay
Surf Team – 2nd  Harper Hay Cash Aitkinson Hepburn MacLennan
Individual
Swim – 4th D Cash
U/13 Girls Team
Surf Board Rescue – 5th – M Foreman K Mc Kerron
U/14 Boys Individual
Beach Flags – 5th K Enticott
Lorne has had an unprecedented season with success at both ends of the beach and over the Masters' State Titles (with too many medals to mention). It's a very exciting future ahead for the black and white.
IRB News
Last weekend the IRB racing season kicked off at Mordialloc. Lorne was represented by 3 crews who battled hard throughout the day in the choppy bay conditions. Highlights included the new girls crew of Jess Sincock and Romany Colomb making their first ever final together, finishing a respected 5th place in the female rescue event.
With 4 more IRB competition events coming up around the state, the Lorne IRB team would love for you to come along. For event details please follow this link: https://lsv.com.au/wp-content/uploads/Circular-220.03.18-2017-18-TRE-IRB-Competition-Dates-and-Venues.pdf
As always, the Lorne IRB team is always recruiting. If you are interested in joining us, or know of anyone else who might be keen,  please get in contact with Jess and Jack at irb@lornesurfclub.com.au.
Jess Sincock & Jack Slykhuis
Powercraft/IRB Co-Captains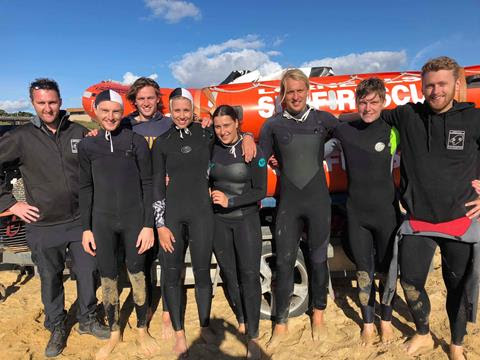 Our masters showed the way
A small but strong Lorne team participated at the Aussies Masters held in Scarborough Western Australia. The team demonstrated why Lorne is always a competitive force starting by winning 3 Gold and 2 Bronze medals in the first three days, with many more great results to follow.
In the 2km Ocean Swim on Sunday, Tristan Read won his age group, Tim Boness came 5th in what initially looked like 3rd with a tumble on the line, and Luke Matthews came 7th in the Under 17s (won by Hayden Cotter the Pier to Pub winner and who won 3 Golds at Scarborough and came 3rd in the Open Surf Race as a 16 year old!)
Tristan backed up the next day with Gold in the 40+ Surf Race, Bronze in the Rescue Tube and 7th in the Ironman, while Tim Boness and Peter Williamson came 7th and 11th in the over 50 Surf Race and Rebecca Read came 8th in her Surf Race.
The highlight on the Tuesday was Gold in the 160 female Surf Boat final – a brilliant effort by the "Lorne Agains" – Paula Matthews, Shea Grant, Megan Grierson, Tamara Brawn and Geoff Matthews as sweep.  They dominated in the preliminary heats and despite a couple of mishaps in the final they powered through the field for a much-deserved win.
Rebecca Read scored a great Bronze in the over 40 2km Beach Run – the second year running Bec has won a medal at Aussies – well done Bec!
Wednesday saw the start of 4 days of Masters' competition  in the Pool at Claremont (a FINA event not SLSA).  Tim Boness won 3 or 4 Golds in the 400 and 800 Free and 200 Fly and Peter Williamson won a few Silvers (yes! coming in behind Tim again ).   Tim and Peter respectively competed 7 and 6 consecutive days of racing. It was definitely time for a big rest afterwards!
It was a fantastic week of competition and we are looking forward to having an even stronger team next year on the Gold Coast. So to all you Masters out there; it's time to start your Winter training!  Early February will sees the State Masters titles at Lorne so there are no excuses to not have a crack at that.
Peter Williamson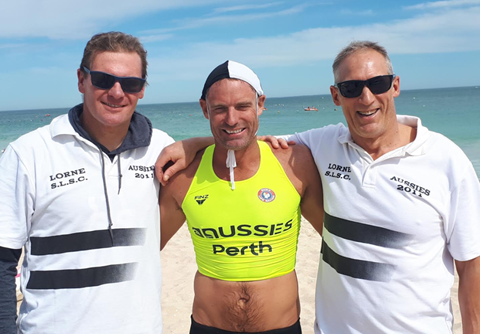 Our surfboat crews dominated over in the West.
An amazing season was punctuated with an even more amazing Australian titles campaign with six crews representing Lorne at Scarborough Beach. Crews travelled West with genuine hope and anticipation. All crews performed to a level that is fast becoming a trademark of the Lorne Surfboat team.
With the threat of dangerous seas being forecast for Sunday, typically finals day, the race program was shortened to make sure that all medals would be contested by Saturday evening. This meant that our remaining 5 crews had to roll out their best performances in every round with harsh cuts and eliminations now on the program.
Our Reserve Grade rowers were standouts through the heats with the WASAVICS dominating the men's division and the LorneAtics and UniLornes accruing near top points in the females.
All three crews raced through to semi-finals and were hopeful of progressing to the medals rounds when Mother Nature chose to halt their passage. As is often the case with surfboat rowing, the tricky conditions particularly the shore break impacted upon the crews and they failed to progress.
Nevertheless, it was an amazing achievement by these crews reflected in their national rankings for the season.
National Rankings for the Reserve Men and Women:
WASAVICs ranked 9th in Australia
UniLornes ranked 10th in Australia
LorneAtics ranked 11th in Australia
Our Open Men and Open Women were equally as impressive. Our Men, Lorne 31s, were virtually unstoppable in the heats and were real contenders to make the final. In a semifinal of four boats they were hit by a wave that saw them take water and as a result, put them behind the rest of the field. An unbelievable row brought them back into contention, only to miss the inshore run and place them in fourth.
Our Open Women, Lorne Edge were again a standout! Their form through the heats showed they were never going to miss the final. Living up to expectations the girls lined up for the Open Women's final with a great attitude, spirit and confidence, knowing that they deserved to be there.
The  process of their race was as perfect as I have experienced as a sweep and full credit to the girls for delivering on the biggest stage. A magnificent start saw them hit the lead and hold that position for the whole race, bar perhaps the final two strokes. Pushing to the shore in dead water and virtually bouncing over a rebounding shore break they were tipped for the Gold by Northcliffe who had the assistance of an inshore run that brought them up from two lengths behind.
An absolutely incredible achievement to win SILVERand an extremely proud moment for the girls and all our supporters who travelled West and in particular me, their Sweep.
National Rankings for the Open Men and Women:
Lorne 31 ranked 7th in Australia
Lorne Edge ranked 2nd in Australia
It was an enormous effort from everyone, towing boats, lifting boats, supporting each other and sharing celebrations. We have a fantastic group of people who operate as a real team allowing us to achieve what we have this year. To have five crews ranked inside the top 12 in Australia is unheard of, particularly from a Victorian Club. We now have National Gold on our horizon and look forward to next season with even more vigour and determination.
Geoff Matthews
Boats Captain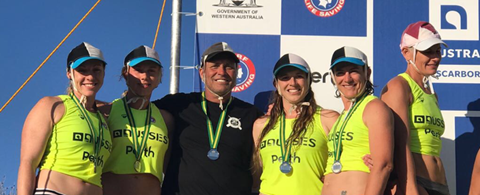 Lorne's Aussies Youth Team hijacked by Swimming Australia!
This year Lorne had 4 elite athletes who had to make the hard choice between competing at the Aussies or National Swimming Titles and they chose the Nationals -The results speak for themselves, Lorne have some of the best swimmers in the country.
To compete at the Age National Swimming Titles you must qualify (with times set within 10% of world best).  Thomas Hay at his first Swimming Nationals , Hamish Bowden and Michael Garbelotto at their second and Billy Bowden at his fourth all competed.
The boys had 19 individual swims between them (including finals) and 12 team relay races, achieving 18 PB's all up. The stand out swims at the meet were by Thomas Hay and Hamish Bowden. Thomas swam 'out of his skin' to PB in the heat of the 50m Freestyle and then stepped up to swim another PB of 24.11 qualifying for the Final (7th place). It was an amazing effort.
Tom finished with the U18, 4 x 100 Medley Relay – chosen to be the anchor leg from hot competition. Up against the best U/18 swimmers in the country he held off some fast finishing teams to get a well-deserved SILVER medal.
Hamish Bowden was the other standout making 3 individual finals – 200 and 400 IM 7th and 8th respectively and getting a Bronze medal in 200 Fly. The Fly was classic Hamo – at the 50m Hamo had a 1 sec lead at the 100m he had at 2 sec lead.
This was not the coaches race plan, however it would appear Hamish was not listening (AGAIN!!). With 25m to go it looked like the early effort my not pay off, but Hamo hung tough and finished it off to get the BRONZE only 0.74 off Gold and 0.02 off Silver.
Michael and Billy had mixed results, but in their preferred events they only just missed the finals, finishing 13th and 14th respectively in the 200 free and Michael getting 12th in the 400 free.
As a parent I am very proud of all the effort these boys who have put in tremendous effort the get there and the results are testament to the hard work and early mornings. Next year there is no clash of schedules and hopefully the club will benefit from having these athletes compete for Lorne at the Aussies in Broadbeach 2019.
See you on the beach.
James Bowden