Lorne Mower December 2021
THE POWERCOR MOUNTAIN TO SURF & PIER TO PUB
We need your help for the events – Friday morning and/or Saturday. Keeping in mind that Saturday is a compulsory day for patrolling members. Please complete this link to register as a volunteer – it takes less than 2mins to do this. Associate members – we will be in touch.
http://resource.lornesurfclub.com.au/register/start/175f1711-146a-4b5e-929b-e5abe6ff2e97
PRESIDENT'S REPORT
Welcome to another edition of the Lorne Mower.
As the festive season draws near, I hope all our members are safe and well and looking forward to the Summer break.
Patrols are now underway, and we have had some good numbers patrolling. This is important, as recent rescues that took place over the weekend showed us, with the Easterly winds and strong rips causing a few swimmers some major problems. A big thank you to all our active members for patrolling the beach and for the additional assistance from Silver Camp instructors attending the scene.
We are excited to get the Nippers program up and going again. We have been able to offer our normal allocated number of positions for our Nippers program this year which is wonderful. We look forward to seeing them participate on the beach over Summer.
The training program has also been very busy with Requals, Adult Bronze, and Silver Camp all done while Bronze Camp is now underway. Special mention to Nick Tsekouras for his leadership, along with Jamie Phillips and Lucas Carlson for coordinating the Silver Camp and Ben Hood and Ruby McMaster for coordinating the Bronze Camp. Also thanks to Chief Assessor Ed Callan and the full team of trainers and instructors involved.
We are excited to announce that the Pier to Pub is almost sold out. This is thanks to the amazing work of John, Tina and all members of the Pier to Pub Committee. As usual, we are reaching out to all members and friends to help us out for the events, so please ensure you register your availability or send us a message to let us know you are willing and able to help out. The more hands on deck, the better!
Competition is now underway at all levels with some impressive results and strong representation of Lorne competitors on the beach. These carnivals are essential in helping competitors gain race experience and provide opportunities for them to put all their hard training into action. Well done all participants.
As I always say, the lifeblood of our club are our members and we need as many people as possible renewing their membership to the club. Your membership fee goes directly back into the club, providing the necessary life-saving equipment and maintenance to enable us to keep the beach safe. If you are in a financial position to renew your membership, we very much appreciate your contribution. If you are experiencing financial hardship, please contact the club and we will be very happy to assist you in any way we can.
Please review the details of the vaccine requirements for the upcoming season and the requirements for our members outlined later in the Mower. The message from Life Saving Victoria and from the club is: "please go out and get vaccinated".
As always, it is highly important to remind all our members what is vital for Lorne and all Surf Life Saving Clubs – keeping our beaches safe.
See you on the Beach!
Cheers
Paul
CLUB CAPTAIN'S REPORT
Dear Members,
I would like to wish everyone a very Beachy Christmas and a Happy New year!
Big things have been happening around the Surf Club the last couple of months. Number one being patrols have kicked off for the season! We have been having great turnouts to patrol and I couldn't be prouder of the effort put in by the captains and our active members. Keep it up!
I would like to warmly welcome our Patrol Captains for 2021/22. You can check them out here along with patrol dates: http://www.lornesurfclub.com.au/members-home/patrols/
Please make sure you also put the dates in your calendar for our PINK and GREEN patrols this season.
Pink Patrol is on the 22nd of January, and every active member is invited to come and join us to celebrate the contributions females have made in lifesaving. Pink zinc and snacks encouraged!
Green Patrol is a NEW initiative this season and is our Mental Health Patrol on the 2nd of January. We will be raising awareness for the mental health of our members and friends, as well as learning more about critical incident stress that we might experience after an incident on patrol. Everyone is welcome to participate!
If you have any questions about patrols please don't hesitate to contact myself OR your patrol captains.
Finally, I would like to congratulate Nick Tsekouras, Ed Callan, their Camp Coordinators and Camp Instructors on running two VERY successful camps this month. Thank you for training 59 new Bronze Medallions candidates, as well upskilling 28 of our Active Members on Silver Camp. Go Team!!!
I look forward to seeing everyone on the beach after Christmas for a well deserved holiday and to see all our Active Members bright and early on the 8th of January for another cracking Powercor Pier to Pub.
Jess Sincock
COMPETITION REPORT
Congratulations to our competition teams who have started competing and already achieving great results for our club. It has been good to see our competitors out training and patrolling in the early stages of the season.
For those that have not heard the news, Aussies 2022 has relocated from Perth, Western Australia to the Gold Coast, Queensland from April 2-10, 2022. More details can be found here and the January Calendar of events can be found on the website.
Thank you to all of the sponsors who are supporting our competition teams, and to the volunteer officials, trainers and assessors who have played a big role in getting us ready for the season.
If you would like to get involved in competition please reach out to Billy, Geoff or myself.
If you're keen to follow from the sand check out @lorneslsc, @lorneorcas and @lorneboaties on Instagram.
Wishing everyone safe and happy festive season,
Chantal Guziak
VP- Competition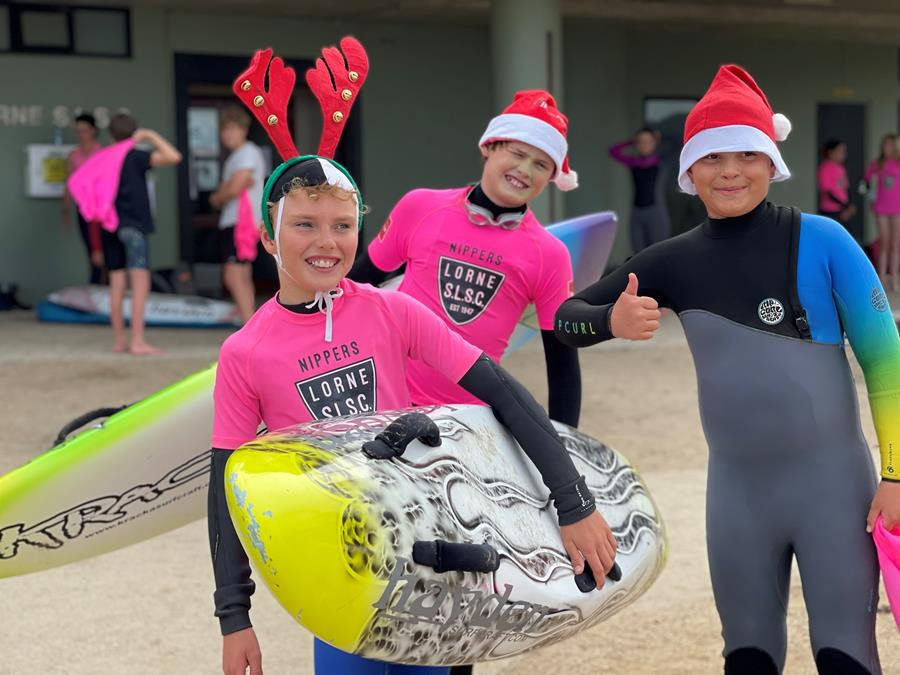 NIPPERS & COMPETITION TEAM
Nippers Intensive Program
We are very much looking forward to seeing you on the beach for the Nippers Intensive program. We commence on December 28th and will run until January 5th with January 1st a rest day. The program will run a similar timing to prior years with a 9:30 am start time. Packet pick up is available from 2 to 4:30 pm on December 27th.
Nippers Squad
The Lorne Nippers Squad runs Friday nights and Sunday mornings in Term 4. Our dedicated group of volunteers, water safety (BRONZE/SRC holders) have run 20 wonderful sessions in all sorts of conditions. Our last Friday session of the term was Christmas themed. Great to see the Squids, Seals and Dolphins groups all rising to challenges and improving each week.
Nippers Squad will have a break until after Pier To Pub and then will run on the following days during Term 1 2022. Tuesday 10am, Friday 5pm, Sunday 10am during the Summer holidays & then Friday 5pm & Sunday 10am for the rest of Term 1.
We have had 6 new adult leaders gain their Bronze qualification. Congratulations to Jono Cutler, Stu Sandiford, James Morley, Dayne Pickering, Simon Hookway and Sunday Ganim.
Lifesaving Victoria Nipper Carnival Season has had 3 carnivals with varied conditions, big wet and windy at Cosy, Smooth as glass at Mt Martha and rough sharp break at Ocean Grove. Our nipper team demonstrated the skills they have been learning and achieved great results. We welcome new members to our competition team and we are all looking forward to Junior State Champs in Lorne 25-27th Feb.
Lucie Doubkova has gained her Official qualification, essential for our team of nippers. Thanks to our experienced team Karl Russell, Hugh Cattermole, Kirilee Wilson and Sherren Hepburn who have officiated so far this season.
Kirilee Wilson
E: nippers_competition@lornesurfclub.com.au
BOARD & SKI REPORT
It's shaping up to be an exciting season of racing with many of our athletes looking in fine form early on in this season. Many of us are putting in the hours and the hard work to help better ourselves and achieve our goals as we learn more about how capable we are as a team. After some delays, our training is certainly underway, and we are relishing every opportunity we are given to reap the rewards from our expert coaching and training members.
The U/14 and U/15's are no exception to the team, pulling on the black and white cap and putting in some early and promising results for the future of the season. These junior competitors are working hard and producing some excellent results. The members of this team have some serious talent and I strongly advise all to follow closely.
As we move onto our U/17, U/19 and Open teams, we start to see some awesome results. Many individuals incorporated in this team have pushed hard to earn their spot in relays and their credentials are only growing larger as many of them learn and improve their skills to become a serious threat to Victorian surf sports. The goals are clear to our team and we are a serious chance of achieving big things this season.
Best of luck to all competitors.
If you're interested in the competition team and would like to learn more or become involved, join the Facebook group @Lorne Clubbies. Alternatively, you can contact myself on the club's website.
Best wishes,
Billy Bowden
Board and Ski Captain 2021/22
SURF BOAT REPORT
After our slow start to the season we are certainly gearing up to field the strong boat crews Lorne SLSC are well known for.
The first Victorian Surf Rowers League carnival for the season was held at our own beach on Sunday November 14th, a successful event both in racing and as a host club.
A huge shout out to Sam Dragovitch who was an integral part of the day providing water safety, ATV support and generating some laughs under the tent. Thanks Sam!
It was also great to see a number of competitors join us at Tom's Bar after the event.
Lorne results from the day:
U/19 Women First Place: Lorne Badgers
U/23 Women First Place: Lorne Cupines
Women's B Final First Place: Lorne Fun
Women's A Final Second Place: Lorne Lions, Third Place: Lorne Edge
Men's A Final Second Place: Lorne Cutlets
Our team members aren't just making inroads in rowing. I would like to congratulate Peta Glaister who achieved her Level 1 sweeps accreditation in November. This is a huge achievement for Peta and for our surf club who continue to have strong female representation in our boat section. Helping to make all of this possible are our sponsors. A big thanks goes to Phil Grant, Otway Boots and Hula Beach Footwear for their ongoing support of our boat section.
You can check out their amazing range of footwear at https://otwayfootwear.com.au/ and give them a follow on Instagram @otwayboots.
Lorne Surf Boat rowers welcome another baby to the family. Congratulations to Bec Daniher and Drew Howell (pictured above) who welcomed Billie Joyce on November 15th 2021 – we can't wait to see her on the beach in the black and white!
Happy holidays,
Geoff Matthews
Surf Boat Captain