Lorne Mower February 2021
READ ALL ABOUT IT:
– Presidents Report
– Club Captains Report
– Competition Report
-Surf Boats Report
– Board & Ski Report
– Nippers Report
– Nippers Development Squad Report
– Nippers Competition Report
– LSLSC Surf Sisters Report
– Powercor Pier to Pub & Mountain to Surf Report
PRESIDENT'S REPORT
PAUL MCMASTER
We would all agree that the 2020-21 Summer looked different due to the challenges that COVID-19 threw our way, but despite this, we managed to maintain a good degree of normality.
I'd like to extend a big thank-you to our members for remaining loyal to the Club and for working in with all the requirements and cooperating with all the restrictions imposed upon us. In particular, special mention to Jo Pincus and the COVID-19 committee for their tireless work in ensuring the Club could remain open and operate in a safe manner.
The Nippers program was conducted with smaller groups and a slightly modified format but went extremely well. We appreciate all of the coordinated efforts of the volunteers involved to achieve this.
Congratulations also to the committee members, instructor team and volunteers for their efforts in both coordinating and leading successful Silver and Bronze Medallion Camps, again with limited numbers and within restricted guidelines.
For the first time in history, both our Pier to Pub and Mountain to Surf events were conducted 100% virtually. Again, a special thanks to the committee and individuals involved and congratulations on adapting this program to make them successful events for the Club.
Lastly, a huge thank-you for the continued efforts of our patrollers in volunteering their time to keep our beach safe. We congratulate the huge number of valued patrollers who have signed on throughout the season and encourage you all to continue this highly valuable community service. With drownings occurring across the country this Summer, it only highlights the value that you as patrollers provide for our community – thank-you!
We look forward to sharing the rest of 2021 with you all and thanks to everyone for supporting the club in the big and small ways that you all do. It helps us as a club keep the beach safe.
Regards,
Paul McMaster
CLUB CAPTAIN'S REPORT
SAMUEL ASCHHOFF
The patrol season has been a very busy one so far! All active members who have helped patrol our beach so far this season have done an amazing job. The weather has managed to be a little helpful so far this year, without the usual number of over 30-degree days. This has meant there have not been many days of 5000+ beach attendees. This does not mean it has been a less challenging season. Our patrol groups have still performed several rescues, as well as countless preventative actions.
As we head into the shoulder months for the patrol season, I would like to remind everyone that we still need as many people to attend patrol as possible. The weather has started to get better, so we are anticipating beach attendance to remain high.
The Masters Carnival and Open Carnival on Saturday and Sunday just past went ahead without too many issues. Our First Aid team were on hand to assist with the minor injuries sustained during the events, and did a terrific job responding to the incidents. A big thanks to Dr Peter Atkinson for his assistance on the day.
Thanks to everyone who has been on our beach so far this season, as well as all those members who have assisted with water safety at Lorne and for carnivals.
Looking forward to the rest of the season!
Thanks,
Sam Aschhoff and Jess Sincock
COMPETITION REPORT
CHANTAL GUZIAK
Massive well done to all of our competitors who seem to have put the challenges of a slow pre-season with the limitations due to Covid behind them and now into the swing of things with training and competition.
It was great to have a big presence on our home beach for both state masters and the open carnival in the weekend.  Thanks to the club and all volunteers who made this a successful weekend.
Reminder for our competition patrol, 2 & 5, that our next rostered patrol is February 13th and 14th.
Board and Ski Captain: Billy Bowden
Boat Captain: Geoff Matthews
See you in the beach!
Chantal
SURFBOAT REPORT
GEOFF MATTHEWS
After COVID lockdowns throwing a spanner into the works, our surfboat rowers have hit the ground running for the 2020-2021 season.
An impressive number of our crews are now all hitting the water several times a week for training. This includes male and female crews in both open and reserve grades.
This consistency in training means our crews are chalking up some great results.
In January the Lorne Lions and Lorne Chops both won State Team Selection to represent Victoria at the ASRL Open, with Lorne Edge and Lorne McCoombe narrowly missing out on the day.
Similar results were seen at Anglesea, Bancoora, Ocean Grove and Port Campbell carnivals, with our crews winning or placing many of their races.
Our Open Men and Women are also lucky enough to be crossing the border for another four events of the Ocean Thunder Series this year. Round One was held last week in incredibly challenging surf conditions, and both crews walked away with a 4th placing.
Huge thank you to Phil Grant with the support from Otway Boots and Hula Beach Footwear for this series.
Our masters crew put in a very strong show at our home beach at the State Masters on February 6th.
Lorne Again placed 1st in Women's 160+, Lorne Edge 1st in 140+ and Lorne Crusties 2nd in the 240+.
All in all, our rowers and sweeps have done a great job of adapting to these 'unprecedented' times and are looking forward to the business end of the season.
Geoff Matthews
BOARD AND SKI REPORT
BILLY BOWDEN
The board and ski area has been training hard across the summer with many of us training daily under the watchful eye of Brent Enticott. The team has navigated its way through the governments COVID-19 restrictions and the club's member guidelines to put together an excellent training season across December and January. Limited competitions have been held by LSV but there has been opportunities for our team to race at locations such as neighbouring beaches Fairhaven and Anglesea. The team is eager, fun and looking forward to the State Titles in March to be held at home in Lorne.
A portion of the training squad made the trek up to QLD for the Maroochydore Murphy Home Builders Carnival. Three of our U/17's competed and all secured solid results with all making it through their heats – a promising position in the lead up to Aussies in March.
Masters was a great success for our older and more fragile competitors. We were blessed with sun and waves rolling through beautiful Lorne beach for an excellent day. Some great results were secured but more importantly, the team was pushing through the pain with a smile (followed by some sore bodies the following day).
Following on from the Masters championships at Lorne was the Lorne Carnival – a significant event in the season. It was nice to have some good waves about and overall a good carnival for all who attended. Lots of racing with each event undergoing three rounds.
The Lorne board and ski team now prepares for the Ocean Grove Carnival on the weekend of Feb 22/23.
Billy Bowden
NIPPERS
JO PINCUS & BEC MORIARTY
Nippers 2021, we did it!
Despite all the challenges 2020 threw at us, Lorne Surf Club delivered a great nippers program this summer.  A huge well done to all the kids and parents for participating, and helping do all that was required of you to be "Covid safe".  And an even bigger well done and THANK YOU to the volunteer helpers.  That would be all the age level managers and age level assistants, the set-up and pack-up crews, and the water safety helpers, both young and older.  The program would not be possible without your help.  So thank you.
For the U13 crew – Mike, Matt, Narelle and Sue.  Thanks for helping guide another age group all the way through.  You are now officially allowed to relax during future summers!
The program had to be adjusted this year to comply with LSV Covid guidelines.  The key changes that everyone was aware of – smaller group sizes, groups staying put on the beach and session duration – in the main turned out to be very beneficial.  While we started the program confident but at the same time a little unsure how it would go, we've had so much positive feedback.  With a focus on developing confidence and skills in the water and the beach, the Nippers team will be looking at how what we had to do this summer actually resulted in a better program, so how to continue for future programs.  Let's take something good from all that Covid compliance!  The main program downside was the distinct lack of hot days, but as clever as we all are, that was out of our control!
Because we know you will ask, tentative planning for summer 21/21 has dates as probably Dec 27 – Jan 4.  So pencil those in there will be more definite updates later in the year, probably around the end of term 3.
All the best for a fun, safe and enjoyable remainder of summer (yes weather if you are listening, it is still theoretically summer!).  Hopefully the sun will come out on the weekends so we can all get some more good beach time.
Cheers, Jo & Bec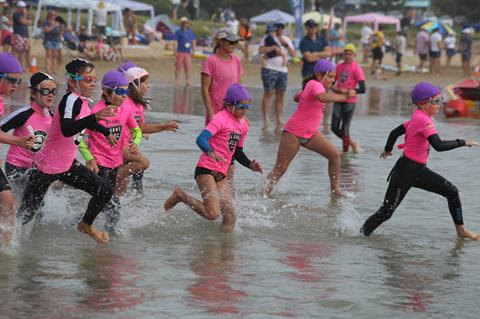 NIPPERS DEVELOPMENT SQUAD
KIRILEE WILSON
Dear Members,
Nippers Development Squad had a busy program over Summer. Nippers and families have embraced the chance to develop skills in a fun team environment. We have had a regular team at each session on a Friday night & Sunday morning with three groups based on confidence and ability in the water, Squids, Seals and Dolphins. Squad members have benefited from skilled leadership that includes parents, siblings, past nippers and specialist swim sessions with Sam Sheppard. It has been great to see confidence and skills grow over the season. It made us happy this weekend to hear a Squids member talking to himself "paddle, paddle, paddle" as he paddled over a cresting wave.
NIPPERS COMPETITION
KIRILEE WILSON
Covid has restricted competition for the 2020 season to u12/13s only and only three LSV
carnivals. Torquay held their Annual Jim Wall Ironman event for youth including U13s. Big
surf conditions made it a great day for spectators. Our team of 7 all performed well with Will Newton winning the U13 SurfRace by a clear margin and Jack McKerron paddled hard to come a close 2nd in the U13 Board Race.
Mordialloc 31st Jan was the first of a delayed season and even though water events were
cancelled due to water quality the enthusiasm of our team shone through with 21 attending.
Everyone is looking forward to perfect surf conditions at Ocean Grove and State Champs in Warrnambool.
Mordialloc Junior Carnival 31st Jan top 10 placings:
U13 Boys Flags 1st & 3rd Jerome Palmer and Thomas MacLennan
U13 Boys Long Run 7th Jack McKerron
U13 Boys Relay 3rd (Jerome Palmer, Thomas MacLennan, Jesse Russell, Ollie Young)
U12 Boys Long Run 7th Ben Nation
U12 Boys Flags 4th Sam Essing
U12 Boys Relay 6th (Flynn Curry, Sam Essing, Ben Nation)
U12 Girls Long Run 11th April Boyd
U12 Girls Relay 6th (April Boyd, Evie Cockle, Matilda Ericksson, Zoe Sheehan)
Lots to look forward to with fun squad sessions through term1, interclub friendly hosted by
Lorne and LSV carnivals at Ocean Grove and State Champs in Warrnambool.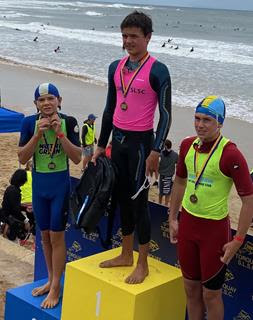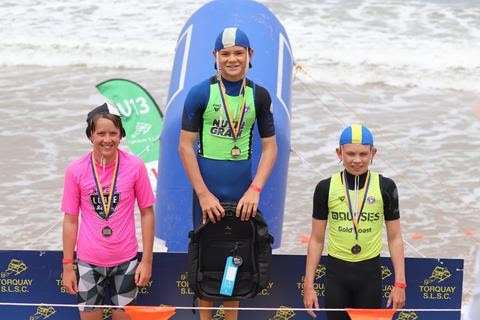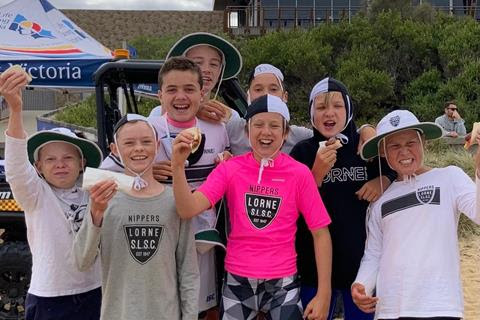 LORNE SLSC SURF SISTERS
JESS SINCOCK & JAMIE PHILLIPS
WOW – What a cracking summer!!
The Surf Sisters and our Male Champions of Change FINALLY got to participate in activities in person!
Throughout January we ran sessions at 8am under the fig tree for all members to participate in and enjoy.
We had pilates run by Ella Dingle, a Park Run held by Nic Lukies, interval training with Kristen McMaster and circuit training with Nick Murnane. We had many members participate and boy did we train hard!
We also had a Pier to Pub session with the Fairhaven Beach Belles, who after the success of the Surf Sisters felt inspired to create their own supportive group to build connections and empower women within lifesaving.
We are excited to see where we are taken in the future, but for now, we wish everyone a great 2021!
See you in the waves,
Jess & Jamie
POWERCOR PIER TO PUB & MOUNTAIN TO SURF 2021
JOHN TAKAC
The 2021 Powercor Lorne Pier to Pub and Mountain to Surf virtual events were a great success.
These events are our major fundraiser supporting the Club's important community activities.  Holding these events either physical or virtual is not possible without the generous support of our partners led by our Naming Right Partner Powercor.
The Lorne Surf Life Saving Club says a big thank you to all our partners and all those that participated.
Lorne Surf Lifesaving Club
February 12, 2021
Peter