Lorne Mower July 2017
THE LORNE MOWER – 2017 Spring Newsletter
Between The Flags
Hi everyone and welcome to a new season at The Lorne Surf Club. Many people have been putting in many hours to make sure we are ready, with Summer just around the corner. Lots of changes have been made across the Club and I guess the biggest being John Takac taking over as M2S and P2P Race Director and Tina Westacott as his Assistant. These events are in very capable hands.
We have a new looking Executive Committee with younger Members stepping up to the plate, a big congratulations and welcome to Zac Horstman, Brydie Murrihy, Felicity Koch, Heath Armstrong and Jenny Aschoff. They join Caitlin McCombe, David Hay, Carol Fox, Tim Boness and myself to guide our great Surf Club through another year.
A big congratulations to Caitlin Cross and Jared McCombe who were married at the Surf Club last Friday. I believe a huge night was had by all.
So its time to shake of the Winter shackles and start looking to Louttit Bay. See everyone in Lorne very soon.
Peter Murrihy – President
Nippers Registrations Open Next Monday
9 October
2 days to go!
Are you nippers registration ready?
1. 2017 swim proficiency certificates for all children ready from your swim school.
2. Paid your membership subscription.
Please note that the cost of the nipper intensive program which runs form the 27 December to 6 January is $75 per child and is additional to the membership subscription fee.
Then you are ready to register so head to the Club website to register next Monday 9 of October.
Registrations cannot be accepted without these this year. Places are limited and offered on a first come first served basis.
Exciting Club Upgrades
New Club Security Tag System
The old security system is currently being upgraded. All members will be provided with new security tags with membership payment and a Working With Children Check.
New BBQ
The BBQ that has served endless club functions it is believed for around 17 years will be replaced with a new one for Summer.
New balcony balustrade
We are pleased to announce the balcony has been upgraded with a new balustrade over winter  making it safer for children and a new more functional place to enjoy a drink and the views.
New gym equipment
Thank you Tony Harris for donating an extraordinary new range of gym equipment that will take our members' fitness to a whole new level! #getyourselfreallyfit
Members in Lifesaving News
Congratulations to the following members:
James Carew – scholarship recipient Drowning Prevention Conference, Canada.
Larnie Hewat, Ellen Porter, Sam Slykhuis – were selected to take part in the LSV Building Leaders Scholars programme, Sri Lanka in September. They had an  important role to play in training and assessment with local police, coast guard and supporting their swim safety program. Over 800 locals have learnt key swimming and lifesaving skills in the six  years it has been running. It has never been as important as this year given the devastating local floods this year.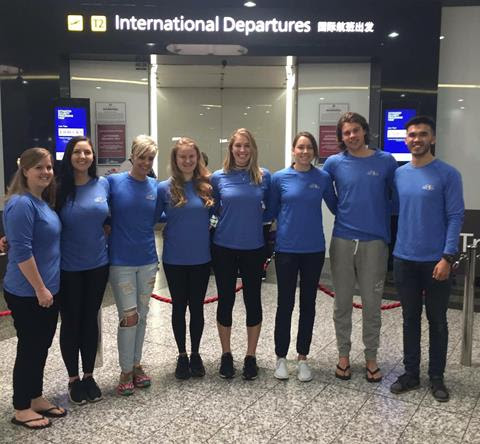 Key Event Dates
SAVE THESE IMPORTANT DATES:
October 2017
Monday 6 – Nippers Registrations Open
November 2017
Monday 6  – Entries Open for Pier to Pub and Mountain to Surf
Sunday 26 – Requalification Day
December 2017
Monday 11-15 – Silver Camp
Saturday 16 -23 – Bronze Camp
Wednesday 27 – Nippers pack pick up 4-6pm
Thursday 28 – Nippers starts
January 2018
Monday 1 – Nippers rest day.
Saturday 6 – Nippers Club Championships (conclusion)
Wednesday 10 – Club 70th Birthday event
Friday 12 – GMHBA Lorne Mountain to Surf
Saturday 13 – GMHBA Lorne Pier to Pub
See the Club Calendar for carnival and patrol dates.
Valuing volunteers evening at Lifesaving Victoria, recognising milestones of service. Left to right  Lorne Surf Club was well represented Jack Slykhuis, Heath Armstrong, James Rice, Graham Rice, Jessica Sincockand Jennifer Aschhoff. 
Volunteers Urgently Needed
IT Officer
Grants Officer
The Club needs help to maintain the Club's email system, files and providing IT support as needed.  It also needs a person to help apply for grants and administer existing grants which form an important part of Club income.

For more information please contact Tina Westacott Club Administrator or to express your interest in the positions.
Swingbridge Cafe to Cater for The Club 
We are pleased to announce, that members will be able to the enjoy the gourmet delights of well known local cafe 'The Swingbridge Cafe', as they have been appointed as the new Club caterers.  Paul and Bron together with their team of friendly staff will return again to the Club.  Dates the Club will open for Summer will be published on the front door of the Club.
GMHBA to sponsor for another two years. 
We are pleased to announce that GMHBA our valued major sponsor of the Pier to Pub and Mountain to Surf will sponsor our flagship events for another two years.
A sincere thanks for their continued support of our Club.
Youth / Junior Training Camp – Queensland
A very successful Youth/ Junior Training Camp was held in cooperation with Alexander Headlands Surf Club, Queensland during the recent school holidays.
Look what Thomas Hay found on the front of Bondi Surf Lifesaving Club – Icebergs on the way home  – impressive recognition!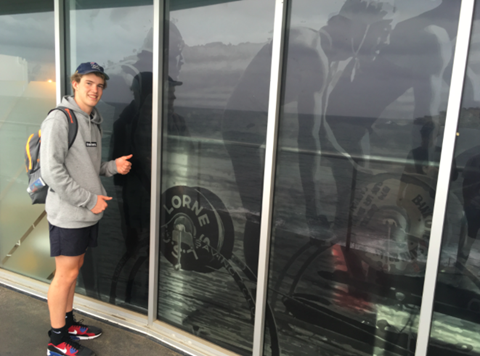 Epipen survey to be sent to members
The Club is participating in a survey to understand members' sentiment towards use and availability of Epipens in the Club environment. Your participation would be appreciated as the information is important.
Thank you to our sponsors