Lorne Mower November 2022
PRESIDENT'S REPORT
As we are about to embark, on what will be a fantastic summer season at Lorne, I wanted to share with everyone, what your Executive and General Committee have been working on, since I was elected as your President at the AGM in July 2022.
The Club has taken over the operation of our bar and food amenities as we farewell Paul and Bronwyn Richmond after 17 years of service for which we sincerely thank them. This change in operations has been necessitated as part of a new occupancy lease, the club is currently negotiating with our land manager, GORCAPA. Further details will be advised as we progress through this process.
We have employed on a part time basis a Bar/Venue Manager, and have started a limited bar service on Fridays and Saturdays from 4pm till 7:30pm serving a range of chilled packaged beers, wines and champagne. Please drop in and introduce yourselves to Jim Utting, a resident form Airey's Inlet. He'd love to meet you and serve you an ice cold refreshment!
Full bar and food operations will commence on December 27th 2022 in conjunction with the commencement of our Nipper intensive programme.
Also those who have visited the club recently may have noticed we are currently completing a modest refurbishment, which will see the downstairs entrance corridor, and the Wade Room receiving some much needed freshening up. These works include new dining room furniture, new entrance doors upstairs, new bar cladding and extensive painting works. We are also constructing a servery outside the kitchen where food will be ordered and collected when prepared.
Last weekend we held a Board and Ski Training camp that was attended by about 25 of our younger competitors. A wide range of training activity was undertaken and supervised by our coaching team, consisting of Brent Enticott and Karl Russell for board and ski and Tristan Read who is our swimming coach. The group also had the benefit of having specialist coach from Queensland, Jamo Porter working on individual technique and group training drills.
Kirilee Wilson and her happy band of Nipper helpers has begun training sessions on Friday nights and Sunday mornings. It is wonderful to see some of our youngest members developing their surf and beach skills.
We are also very excited to see the return of our iconic world famous Mountain to Surf Run on January 13th and the Pier to Pub Swim on January 14th, 2023. After an absence due to Covid it is great to have these two events back on our annual calendar. Entries are filling fast so get yours in quickly to avoid missing out!
I am looking forward to meeting you all on the beach during the summer holidays.
Kind Regards
Nick Newton
PRESIDENT LSLSC
2023 POWERCOR LORNE MOUNTAIN TO SURF AND PIER TO PUB
It's been a big few years but we are back on the Lorne foreshore for the 2023 Powercor Lorne Mountain to Surf and Pier to Pub.
We will need all our active members help and many others to run these iconic events so please keep Friday 13th and Saturday 14th January open to support.
In December, we'll be sending out an on-line registration link for our volunteers to complete.
Let's have a great summer and thanks for supporting your club in delivering these fantastic events.
Your Events Team
CLUB CAPTAIN'S REPORT
Welcome to the season 2022/23! Again, I would love to thank our members for their efforts last season. I am very proud of everyone's achievements and how successful our patrol season was.
Looking forward to the new season, some changes have been occurring in the patrol area during the off season. Not only do we have some new Patrol Captains, but we have some changes to the structure of our patrol season. In accordance with LSV, our 'Peak' season has now been extended to the end of February. This means slightly longer days due to the fact that our beach is getting busier and busier each year – I can't blame them, what's not to love about Lorne!
I am working with our Patrol Captains to get your patrol roster out shortly, keep your eyes peeled for an email with all the details! What I can confirm though is that our season will go from the 26th of November to the 25th April (ANZAC Day). This includes all weekends and public holidays in this period.
Additionally, the weekend of the 12th of November, my subcommittee and I will be down at the club working hard to have all our lifesaving equipment up to scratch and ready to go for another ripper season. Feel free to pop down and say hi!
See you on the beach, I'm very much looking forward to it!
Jess Sincock
Club Captain
TRAINING & ASSESMENT
The season is fast approaching and that means it is time again for the annual Skills Maintenance and requalification of your awards as well as the 2022 Camps in December!
SKILLS MAINTENANCE:
For those unfamiliar with the process, Skills Maintenance is a necessary event you must attend one of in order to 'requalify' your LSV awards. Almost all awards need to be requalified every 12 months before the end of the year. A reminder that anyone who received an award or did the skill maintenance last season needs to attend the skills maintenance this year to get themselves requalified for this second half of the season. However, if you are attending this year's Bronze courses then you do not need to requal. For more information on how to book your requal session, please follow this link:
The 2022 Sessions that will be available at Lorne are below:
26th November 9-10am, 10-11am
27th November 9-10am, 10-11am
3rd December 9-10am, 10-11am
4th December 9-10am, 10-11am
30th December 9-10am, 10-11am
31st December 9-10am, 10-11am
BRONZE MEDALLION & SILVER CAMP COURSES:
Thank you to all of those who have have applied for the 2022 Bronze Medallion and Silver Camps at Lorne. You should have been notified of application by now but if you haven't or have missed out on the application process, please get in touch immediately.
Similarly, if you are wanting to complete your Bronze Medallion, IRB Crew and IRB Drivers, please get in contact immediately as we will be running a few courses before the new year.
If you have any questions regarding the Skills Maintenance or the 2022/23 Camps, please contact the Training and Assessment Team – training@lornesurfclub.com.au
See you between the flags!
Nick Tsekouras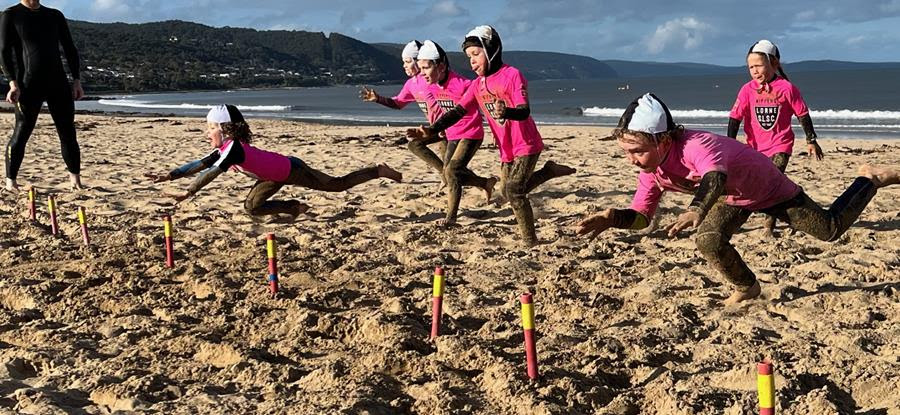 NIPPERS SQUAD & COMPETITION TEAM
Nippers Squad has had a successful start to Term 4 in 2022 with 30+ nippers regularly attending sessions in Lorne on a Friday at 5pm and Sunday morning at 10am. Our Lorne nippers group has a unique catchment with nippers travelling from Lorne, Deans Marsh, Birregurra, Colac, Torquay, Geelong and Melbourne. As we move into Summer our numbers will grow to sessions of 60+.
Nippers Squad caters for all nippers who wish to develop their confidence and skills and have fun in the ocean and on the beach. We welcome back all our squad members from last season and new members are always welcome. We have 3 groups Squids, Seals and Dolphins based on age and confidence in the water. Our squids group is super enthusiastic and it is great to see skills and confidence grow. Nipper Squad program cannot run without water safety and parent helpers. Thank you to all our volunteers and to our new parent Paul Plozza who has taken on setup / pack up this season. We are looking forward to adding to our family of Adult Bronzes.
It is wonderful to have our youth leaders (Kiara, Jack, Will) passing on the skills that they have learnt. We look forward to more of our youth helping as we come into Summer. Special thanks to Kiara McKerron who is a regular Seals leader fitting it in amidst Yr 12 exams.
Nippers Squad is for fun and skill development and for some this leads to our Nippers Competition Team. The competition team welcomes all our Lorne nippers. This winter our Nipper Comp team took part in LSV pool lifesaving competitions culminating in a State Champs at Geelong Grammar pool. The Lorne team finished 1st on the point score above Ocean Grove and Mordialloc due to some great swimming and teamwork. Pool Comp Carnivals include important and fun skills (manikin tow, rescue tube, obstacle race, line throw) and we will hold some come-and-try sessions over summer.
Our Summer Surf competition starts at Ocean Grove on 3rd December and culminates in State Champs in Warrnambool 10-12th March. Lorne has booked out a bank of campsites for our team. We look forward to watching and hearing all the stories from our age group teams U8 to U13s as they enjoy competing in individual and team events over the season on beach and in water. Parent helpers needed, Adult Bronzes for water safety, Team Managers, Setup / Pack Up, Officials, Admin. We are actively building connections with other clubs which allows our nippers to experience other coaches and to build friendships across the clubs. Lorne welcomed Mordialloc/Mentone over Cup weekend.
We have had two carnivals for our U12 / U13 nippers winter surf series at Jan Juc which saw big surf negotiated well by Elias Cattermole and Endurance Championships. Cold water and long races, 1km swim, 2km paddle, 2km run.
Billy Read 1st Board Race, 2nd 1km Swim
Cadel Cross 1st 2km run
Elias Cattermole top 10 finishes in all
Jack Newton & Sam Sheehan u12s great swim and board.
Nipper Squad and Competition Team communication platform is TeamApp "Lorne Nippers Squad".
We look forward to a fun summer, see you on the beach.
Kirilee Wilson nippers_competition@lornesurfclub.com.au
COMPETITION REPORT
Our summer competitors are back and have been putting in the training to prepare for a successful season on the beach.
Thank you to Billy Bowden and Geoff Matthews who are continuing on with their captain roles this season, your support is greatly appreciated. Hear more from them below!
Important Dates:
– Competitor Camp November 4-6th, more details can be found on the clubby Facebook page. Thank you Brent and the team behind this weekend.
– The Victorian Competition calendar can be found here.
– Remember to Save the Date for Pier to Pub, Saturday January 14th, this is the most important fundraiser for our club and your support is required.
– 2023 Australian Titles: March 25th – April 2nd, 2023. Scarborough Beach WA
Please note, due to the limited accommodation with capacity for our team you are encouraged to book your own accommodation. There will not be a club booking for Aussies 2023.
Big thanks to our sponsors who are investing in our competition areas, we are very grateful for your contribution.
For anyone interested in being a part of our comp team please get in touch Competition@lornesurfclub.com.au!
See you on the beach,
Chantal Guziak
Vice President – Competition
BOARD, SKI & SWIM REPORT
Pre-season is starting to look rewarding for many of our athletes with most of the team already looking far more competitive than where they sat at the end of the 2021/22 competition season. A lot of ground work has been made in developing the strength and the endurance fitness base of the athletes with the team participating in group gyms and runs as early as June. The commencement of October saw a large step-up in the training program with race specific disciplines being introduced in order to start improving and developing the skills and aerobic capacity of each individual ahead of our first carnival in November.
Although we're in a good position prior to the commencement of the season in regard to our race preparedness, the real improvement over the off-season has been our teams enhanced culture and matehood as it continues to grow and foster a healthy, social and competitive environment for our surf club members.
The BSS management team is keen to see what improvements can be made over the summer months when training gets more serious and to see what our individual athletes and team events can put together in the in preparation for state champs in February.
If you wish to become involved in a fun, friendly and competitive environment you can contact me to learn more through my details on the club website.
Billy Bowden
Board, Ski and Swim Captain
SURF BOAT REPORT
THE BOATIES ARE BACK!!
As we welcome in our new President Nick Newton the BOATIES ARE BACK and ready to tackle a massive season in 22/23.
ATTENTION!!!!
Our men's U/23 crew are on the hunt for a 4th rower. If anyone is interested, or knows of someone who could be, get in touch!
The event calendar is jam packed with some exciting racing both locally and interstate. Pre-Christmas, which is usually pre-season, this year looms as a busy period for racing. In November crews will race at Apollo Bay, Dee Why NSW and at home in Lorne.
· VSRL Apollo Bay Carnival Nov 6th
· Round 1 Ocean Thunder Dee Why Nov 19th
· VSRL Lorne Carnival Nov 27th
If you're nearby any of these events please drop into the Lorne Boatie tent and say hello!
Our boat section has been fortunate to have retained most of our crews from last season, showing strong hands in both Open Men and Women. Our junior women have also been training hard between VCE study, European vacation's and cattle herding and are looking forward to a summer in black and white. There is also hope for a junior men's crew this season with a couple of new members looking to get involved.
Generally there is a positive vibe in the air for our Boaties!
Looking forward December is proving to be very exciting with crews competing in some major events. Ocean Thunder round 2, the Australian Team selection Trial and the Australian Short Course Championships. The Lorne Chops, our Open Men, are primed for these events and being the current Australian Short Course Champions are keen to defend their title. At home we will be racing for State Team selection and then resting for Christmas Pudding!
Great to see some of our supporters back on the boat this year:
OTWAY BOOTS
HEWLETT PACKARD
BOWDEN CORPORATION
CREFFIELDS PRINTING
Anyone interested in giving SURFBOAT ROWING a try contact me on 0419515273
See you in the BOAT
Geoff Matthews
Boat Captain
LORNE SLSC VOLUNTEERS AND EQUIPMENT SUPPORTING FLOOD RESPONSE
As an emergency service organisation, Life Saving Victoria is supporting the flood emergency response with personnel and equipment as are clubs and our volunteers.
Lorne SLSC has supported the request for equipment, loaning it's "New" Rescue Vehicle and the photo below shows it on location with a team of volunteers. There are also several Lorne members that have supported the deployments including Pat Spinozzola, Alisa Johnson and John Takac (apologies for those missing as we do not have a complete list).
Thanks to everyone who has supported and our thoughts are with those faced with the fallout from the ongoing flood challenges.
Link to LSV media release on response is below.