Lorne Mower October 2021
PRESIDENT'S REPORT
Welcome to another edition of the Lorne Mower.
I hope all our members are safe and well as the year is continuing to throw us all Covid -related challenges. For our regional members, we have been in and out of lockdown and many of our members in metropolitan Melbourne are still currently in lockdown. With some of the restrictions easing in Sydney, there looks to be some light at the end of the tunnel.
The new Committee have been hard at work planning a season that is as normal as possible and as mentioned in the previous Mower, we look forward to seeing all of our wonderful members very soon. It is great to see some action already happening around the club and terrific to see our local Nipper Development program kick-off in sunny weather on Friday night, along with our competition group and active members undertaking training for the season ahead.
The Pier to Pub Committee is pushing ahead with plans for the event to go ahead this year. The Committee is working closely with Government, both State and Local to come up with a feasible plan that meets all the Covid requirements in order to hold the event. I extend a big thank-you to John Takac who, for the second year running, is considering many different contingency plans for the event, to cater for various scenarios that may occur. To plan for the event on its own is a massive task, to plan for multiple scenarios that may play out is even more work and the club is very thankful to John for his efforts.
The lifeblood of our club is our members and in what has been another difficult year, we need as many people as possible renewing their membership to the club. These membership fees go directly back into the club, providing the necessary life-saving equipment and maintenance to enable us to keep the beach safe. If you are in a financial position to renew your membership, it would be of great assistance to the club and most appreciated. If you are experiencing financial hardship, please contact the club and we will be very happy to help out in any way we can.
Below there are details of the vaccine requirements for the upcoming season and the requirements for our members. The message from Life Saving Victoria and from the club is: "please go out and get vaccinated".
Even in these difficult times and in a world that is moving towards a "COVID normal", it is still important to remind all our members what is vital for Lorne and all Surf Life Saving Clubs – keeping our beaches safe.
See you on the Beach!
Cheers
Paul
Vaccination – LSV's Position
The requirements for our members as per the guidelines for life saving clubs across Victoria are as follows.
Due to the diverse nature of our organisation and the many services and activities we facilitate, this means LSV members, employees, industry and community partners, contractors and visitors will need to be fully vaccinated against COVID-19 by 26 October 2021 to be able to attend an LSV or club facility, deliver an LSV or club service in person, or participate in an LSV or club activity in person, in order to comply with the roadmap.
This extends from our emergency services role to our community sports and recreational activities, and to the training and customer service areas of our operations.
LSV Covid Vax FAQs.
https://lsv.com.au/wp-content/uploads/LSV-COVID-19-Vaccinations-FAQ.pdf
CLUB CAPTAIN'S REPORT
It's getting closer, I can almost smell it! The season is nearly upon us and I am very much looking forward to it! After another difficult year we can now look forward to (hopefully) getting back to the beach and town that we all love.
Nick Murnane and I have been working hard at locking in our Patrol Captains for the season, but first we would also like to thank all of the outgoing captains who are handing over the reins and providing new opportunities to others. We thank you and greatly appreciate your time and commitment to our favourite club. We still will see these guys patrolling our beach whenever they can though so it's definitely not good bye!
Special thanks to:
● Gracie Foreshaw
● Trent Jackson
● Cam Cullis
● Caitlin McCombe
● Jenny Aschhoff
● Lucas Karlson
New Patrol Captains will be announced soon via our socials. Patrol dates will be circulated by the end of October and then the patrol season kicks off on Saturday the 27th of November.
We look forward to seeing everyone on the beach!
Jess Sincock & Nick Murnane
COMPETITION REPORT
Hope the training is going well and everyone is gearing up for the Summer season. It is great to see our competition teams getting back into training!
Brent Enticott and Billy Bowden are heating things up in the Board and Ski area with water sessions picking up and it was great to see the turn out for the Virtual Board / Ski season kick off.
Watch this space for more updates on the training program.
Our surf boats are starting to hit the water too and they are providing some great photo opportunities for bayside locals. This photograph of our Reserve Women's Crew was captured by Port Melbourne local Kane Sharman and spotted on the Port Melbourne Focus Facebook page.
Our Competition Calendar can be found on our website.
This season we will also be taking the opportunity to introduce you to some of our Competition Team and Sponsors.
This month the spotlight is on Peta Glaister, 3 seat (2nd stroke) extraordinaire of our Open Women's crew, Lorne Edge.
Pete is currently in the recruit course for Fire Rescue Victoria, she set the 2017 1km concept 2 World Record for her age group and is your go to person for anything indoor plants.
Peta is also well on her way to learning how to sweep, her passion right now is to influence up and coming female rowers by helping them to get them on the water and giving them guidance in their training.
Read on to learn a little bit more about Peta.
If you are keen to get involved with any area of competition I would love to hear from you competition@lornesurfclub.com
Keep up the training and see you on the beach,
Chantal
VP Competition
THE POWERCOR MOUNTAIN TO SURF & PIER TO PUB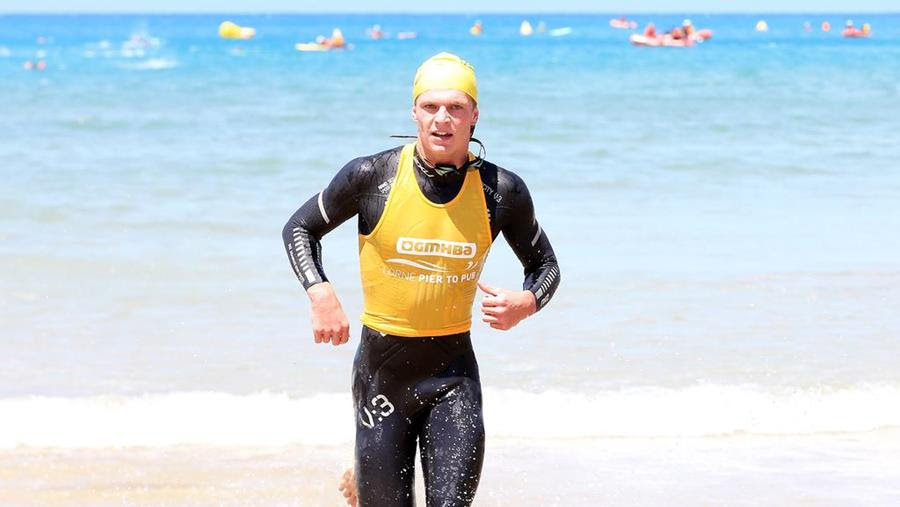 Yes, it is on. The Powercor Mountain to Surf and Pier to Pub are on January 7th and 8th 2022.
Mark these dates in your diary as the club will need your help to make these events as great as they always are. The events committee are working with the state government and other stakeholders to deliver Covid Safe events. As is becoming common to reduce risk, Covid vaccinations are likely to be a requirement for all eligible competitors and us as event staff/volunteers – so let's get the jab.
We received great feedback last season that our events gave people something positive to aim for, a reason for getting out and exercising, and to challenge friends and family -even being virtual. With Powercor's continued support, we are keen to do so again but significantly "lift the bar" with actual events in the fantastic Lorne township.
If you are wondering if the events will look and feel different, the answer is yes as we work to do everything we can to have a safe event, which at this stage has a focus of social distancing. We are still working out the details but for the swim we might be starting earlier, smaller swim wave sizes over a longer period and changes to registration and start. For the run we're planning on smaller start groups across a longer period, giving competitors a start time to show up and changes to T-shirt pickup.
We all look forward to a more open and enjoyable summer and being able to welcome our Powercor events back to Lorne!
NIPPERS DEVELOPMENT SQUAD & COMPETITION TEAM
Nippers Development Squad for regional families started Friday with a beautiful weekend of sunshine and waves. We look forward to welcoming our Metro members soon.
Nippers Squad runs Friday 5pm and Sunday 10am for nippers wishing to develop their confidence and skills in the ocean. We welcome back all our squad members from last season. In addition we have an enthusiastic new group of u8/u9 nippers. This program cannot run without water safety and it is exciting to see the growing number of parents signing up to gain or renew their Bronze qualification. There are many opportunities to help and be part of the team of families who love the beach.
It is wonderful to have our youth leaders/water safety passing on the skills that they have learnt. Thanks to Kiara McKerron, Emma Gregory, Will Ludlow, Alexis Phillips and Alex Marchesani.
We have exciting news for our competition team. Nippers Victorian State Championships are scheduled to be held on our home beach LORNE Friday 25th – Sunday 27th February. All our squad members are welcome to join the competition team for u8-u13 nippers, carnivals have beach/water/team and individual events.
Nipper Squad and Competition Team communication platform is TeamApp "Lorne Nippers Squad". We look forward to a fun summer.
Kirilee Wilson
SPOTLIGHT
Peta Glaister
Discipline: Surfboat rowing
Team/Crew: Lorne Edge
Tell us a little bit about yourself and your crew:
I came to surfboats quite late – about five years ago, and with no rowing experience (as anyone who coached me in the first few seasons would tell you!). Previously I was into running, CrossFit and also played a bit of average footy.
Our team is Michelle the stroke, me in three seat, Gee in two seat and Chantal in the bow, with Geoff Matthews sweeping. Lorne Edge has been around for ages with a number of other accomplished women representing the club and medalling at state, National and world events.
Your biggest achievement in competition: There have been a lot, but winning ASRL in 2019 and being right in the mix during Aussie finals have to be the big ones.
Traditionally our rivals up north don't expect to see Vic clubs show up at the big events, it's very rewarding to establish Lorne at this level.
What makes you proud to be a member at Lorne SLSC: I think it's the combination of being proud to compete and represent Lorne in black and white, as well as being on the beach in red and yellow. Competition wouldn't happen without patrols, and to a certain extent vice versa is true – patrols benefit a lot from competitors. So it's important to be proud and active in both aspects of being a member at this club.
Favourite beach, other thank the obvious one, Lorne: I love Port Campbell!
Who should our next Competitor spotlight be on?
It would be great to learn a little more about Jenny Aschhoff if she is up for it. Jenny competes at the opposite end of the beach to us; I know she is an instrumental part of the club being Captain of Patrol 7 and our VP of House.
Peta, pictured on the right: World Champion – Lorne Edge, World Titles 2018.
October 23, 2021
Peter